Meet Effie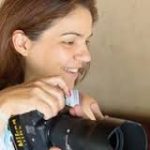 Hi, I'm Effie! I am a wife, mom of two pretty amazing boys, an addict to anything sweet and a lover of the small details in life that make a big impact.
Being a mom confirmed my love for children and the innocence and purity they bring to the world.
But then I found that I had this passion for photography and the moments that could be captured.
I'm a sucker for emotion, creativity and being unique with all things.
My intent is for your photographs to represent moments that evoke that from you and are carried on through family generations looking back on these heirlooms.
I believe your baby and life experiences are like no other, your photographs should be the same. I would love to be a part of capturing them.
Connect with me in the contact tab, I can't wait to meet you.